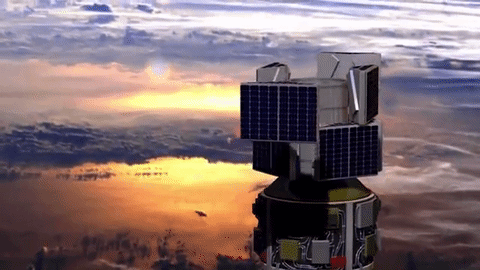 On Monday, NASA plans to launch a constellation of eight hurricane-chasing satellites from a rocket strapped to the underside of a plane. As if that were not metal enough, once these spacefaring octuplets are deployed into low Earth orbit, at an altitude of 316 miles (508 kilometers), they will unfurl their small 5.5 feet wingspans like birds taking flight, as outlined in this concept animation.
By Becky Ferreira | MOTHERBOARD
Called Cyclone Global Navigation Satellite System (CYGNSS), this $152 million NASA-sponsored mission was developed jointly by the University of Michigan and the Southwest Research Institute, and is currently scheduled to take off from Cape Canaveral Air Force Station at 8:24 AM EST. You can watch the event live on NASA TV.
The fleet of CYGNSS satellites is designed to provide highly accurate and frequently updated data about cyclones and hurricanes in the tropical equatorial zone, especially those that form off the eastern seaboard of the United States. It will hitch a ride on the Pegasus XL rocket, built by the private spaceflight company Orbital ATK, which will be dropped off at an altitude of 39,000 feet by the L-1011 Stargazer carrier jet. The Pegasus will then successfully fire its three solid-fuel boosters to deliver the satellite constellation to space.