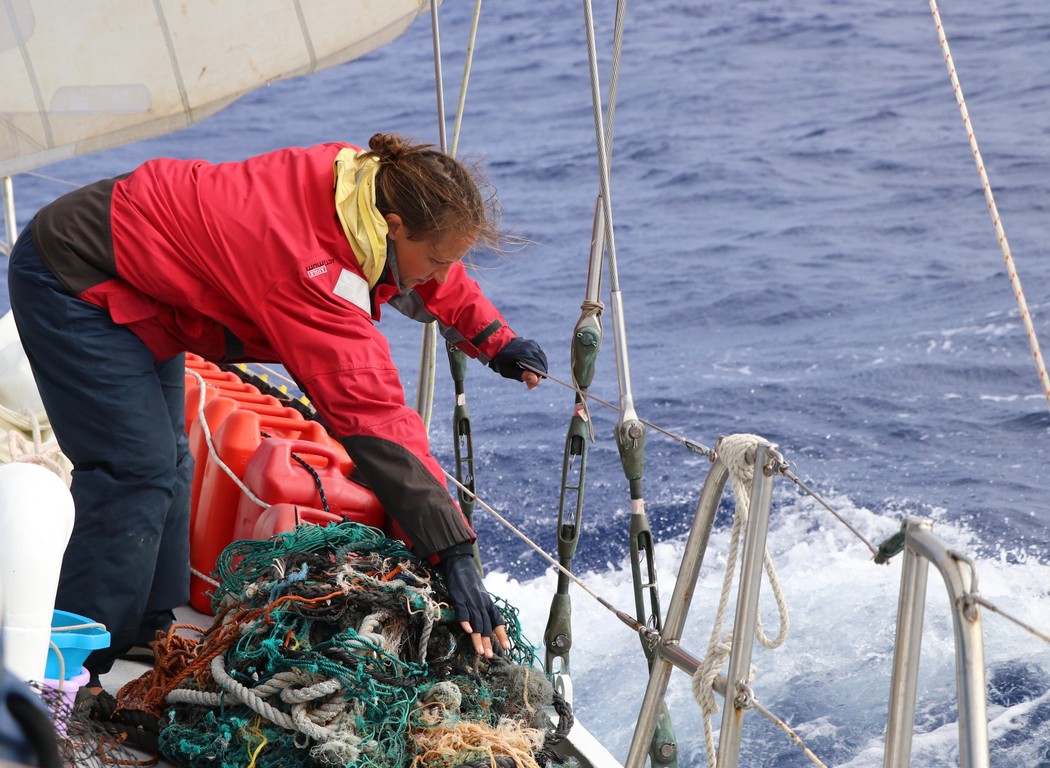 I sailed from LA to Honolulu with Danish nonprofit Plastic Change to finish a global survey on ocean plastic. Short answer: The Pacific plastic problem is probably worse than you thought.
By Erica Cirino | MOTHERBOARD
It's 5:30 AM, the sky still pitch black, save for the glow of a waning crescent moon and a sprinkling of stars, when I take the wheel. I'm in the cockpit of a 64-year-old, 54-foot steel sailboat from Denmark called the S/Y Christianshavn.
Only part of the rudder remains functional—half of it cracked the night before, making steering quite difficult—and we have no engine after a rope got caught in the propeller, damaging it, just a few days into the expedition. My sailing partner Rasmus Hytting, a Copenhagen-based sailor and boat builder, directs me to keep the wheel steady as he rushes up to the mast to replace a sail that's just ripped in the heavy winds. Our captain Torsten Geertz scrambles up on deck to assist, his long blond hair still matted from sleep.
Gripping the wheel with both hands, I stare at the horizon and marvel at the fact the Christianshavn's been able to cover more than 2,000 miles across the vast Pacific Ocean on wind power alone. Now less than 50 miles from our destination, Honolulu, our crew of nine people have spent 23 days at sea sailing from Los Angeles. In our time out here we've seen a small number of birds, a handful of whales, dozens of dolphins, 22 sunrises, 22 sunsets, the occasional passing ship, and lots and lots of plastic.