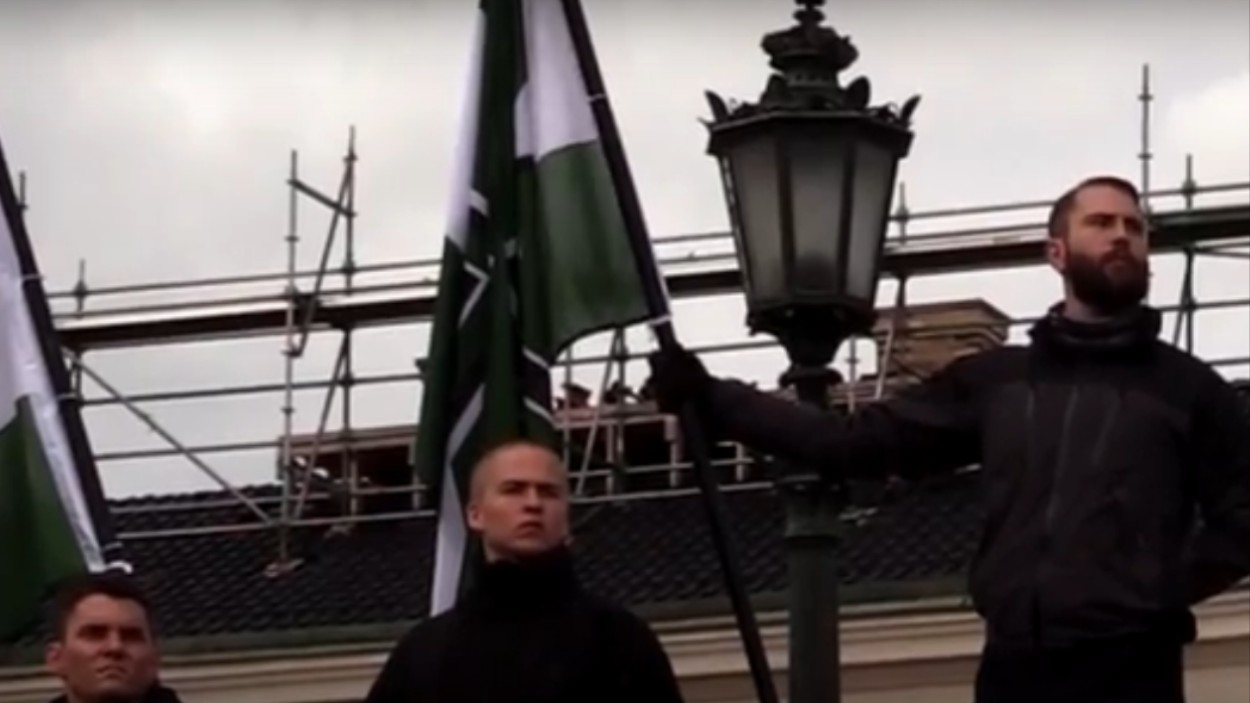 In a software-aided investigation, MOTHERBOARD found that while YouTube has cracked down on pro-ISIS material, the video giant leaves neo-Nazi propaganda online for months and sometimes years at a time.
Joseph Cox | MOTHERBOARD
"Where will you be when the race war begins?" the propaganda for Atomwaffen Division, an American neo-Nazi group linked to several murders in the US, says. "Join your local Nazis." The phrases were included in a video that YouTube removed along with the rest of Atomwaffen's channel last month.
But that removal was closer to a one-off than an extended campaign: YouTube is still hosting exact copies of that video and others from Atomwaffen. Through a software-aided investigation, Motherboard has found that while YouTube has managed to clamp down on Islamic extremists uploading propaganda, the video giant is still awash with videos supporting violent and established neo-Nazi organizations, even when, in some cases, users have reported the offending videos. Clips of neo-Nazi propaganda operations, hate-filled speeches, and extremists pushing for direct action have remained on the site for weeks, months, or years at a time.
"Their rhetoric and calls for violence is of the most extreme nature," Joanna Mendelson, senior investigative researcher at the Anti-Defamation League's (ADL) Center on Extremism told Motherboard, referring to Atomwaffen.
Examples of neo-Nazi videos on YouTube include:
A video celebrating the one year anniversary of neo-Nazi website Iron March says "Gas the K***s, race war now!," and has been left online since 2012.
A "call to action" from the Nordic Resistance Movement, an established neo-Nazi group in Sweden, Finland, and Norway, which Finland has moved to outlaw. The video includes narration from the late Robert Jay Mathews, an American neo-Nazi, and plans "total Aryan victory," after breaking "the chains of Jewish thought," and adds they will go "high above the mud of yellow, black and brown," coupled with images of punching a person of color.
A UK anti-refugee protest and speech, which includes a participant holding a flag from National Action, a neo-Nazi group the UK government banned as a terrorist organization last year. Other videos also include National Action banners.
Several exact copies of Atomwaffen videos, including a clip calling for a "white revolution," one showing Atomwaffen supporters distributing propaganda posters around a US university, and several encouraging viewers to join local neo-Nazi groups. These were uploaded on the same day YouTube banned the original Atomwaffen channel in February.