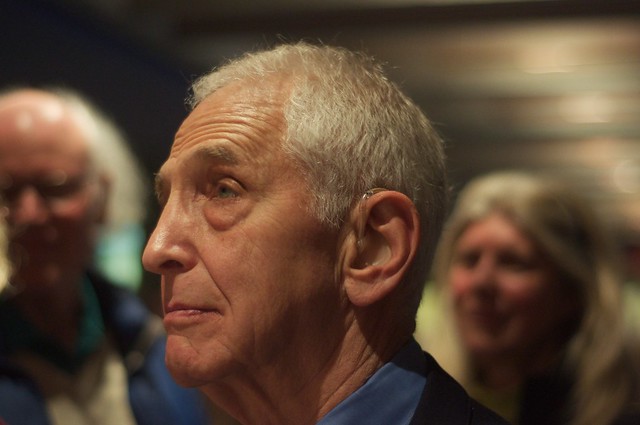 What follows is a conversation between author and famed whistleblower Daniel Ellsberg and Sharmini Peries of the Real News Network. Read a transcript of their conversation below or watch the video at the bottom of the post.
Sharmini Peries | truthdig
SHARMINI PERIES It's The Real News Network. I'm Sharmini Peries, coming to you from Baltimore.
Whistleblower associated with WikiLeaks Julian Assange appeared to be making a statement as he was shuffled out in handcuffs from the Ecuadorian Embassy in London. He was carrying a book, a book published by The Real News Network with Gore Vidal on the history of the national security state. We gather Assange may have been trying to send the world a message, as did the Washington Post. And you can find an interview that Paul Jay, the senior editor here at The Real News Network, had done with The Washington Post in the link below.
On to talk about Assange and the reasons for his arrest is a man that is, perhaps, the most famous whistleblower in history that has experienced this type of arrests and state threats, is Daniel Ellsberg, who leaked the famous Pentagon Papers. Daniel's new book, The Doomsday Machine: Confessions of a Nuclear War Planner. You will find an interview series related to Daniel's book here on The Real News Network, and we'll put a link to that, as well. Daniel, good to have you here.
DANIEL ELLSBERG Glad to be back with you. Thank you.
SHARMINI PERIES Daniel, your reaction to what has just happened to Julian Assange in London?
DANIEL ELLSBERG It's a very serious assault on the First Amendment. A clear attempt to rescind the freedom of the press, essentially. Up till now we've had a dozen or so indictments of sources, of which my prosecution is the very first prosecution of an American for disclosing information to the American public. And that was ended a couple of years later by governmental misconduct. There were two others before President Obama, and nine or so under President Obama, of sources, none of these having been tested in the Supreme Court yet as to their relation to the First Amendment. Hasn't gone to them.
This is the first indictment of a journalist and editor or publisher, Julian Assange. And if it's successful it will not be the last. This is clearly is a part of President Trump's war on the press, what he calls the enemy of the state. And if he succeeds in putting Julian Assange in prison, where I think he'll be for life, if he goes there at all, probably the first charge against him is only a few years. But that's probably just the first of many.
In my own case, my first indictment was for three counts, felony counts. That was later expanded to 12 felony counts by the end of the year, for a possible 115-year sentence. So I think this is a warning shot across the bow of every editor and publisher in the country.
If they make the connection of the Real News Network book that he was carrying with him into prison, which I think Gore Vidal would be very pleased to see, him associated with this incident in terms of defending Germany Assange's rights, but they may connect you. You may be in the next conspiracy trial with Julian Assange. It may not take much more than that. I see on the indictment, which I've just read, that one of the charges is that he encouraged Chelsea Manning and Bradley Manning to give him documents, more documents, after she had already given him hundreds of thousands of files. Well, if that's a crime, then journalism is a crime, because just on countless occasions I have been harassed by journalists for documents, or for more documents than I had yet given them. So they–none of them have been put on trial up till now. But in this case, if that's all it takes, then no journalist is safe. The freedom of the press is not safe. It's over. And I think our republic is in its last days, because unauthorized disclosures of this kind are the lifeblood of a republic.